Hurricane Dorian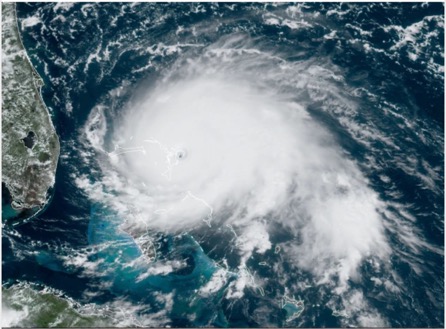 Hurricane Dorian, 1 September 2019, as it makes landfall on Elbow Cay, Abacos as a Class 5 Hurricane with sustained winds of 185 mph and gusts to 220 mph on Sunday Afternoon (NOAA GOES-East).


NOTE: These pages are focused on information relevant to Cruisers in the Bahamas. Its purpose is to help maintain the continued visits of Cruisers to those parts of the Bahamas not directly affected by Dorian with the goal of helping maintain a healthy economy that will better support the overall recovery effort.



See the Following Webpages for Specific Information

Dorian - the storm

Information about Hurricane Dorian as a storm: intensity, track, wind field, etc
How to Help!
Information about the best ways to provide badly needed support to the Bahamian People
Recovery Resources
Sources of additional information about the hurricane recovery efforts
Damage Reports
Damage reports, by location, of people, areas, businesses, and sites of importance to cruisers
Recovery Reports
Recovery status reports, by location, forf the of people, areas, businesses, and sites of importance to cruisers
Updated:
20 September 2019