Barraterre
Barraterre is located N of the NW tip of Great Exuma Island. It is surrounded by shallows of < 6'. See Explorer charts for approaches.
Explorer Chart:
EX-27, EX-27A

Airstrip

George Town International Airport;Great Exuma.
Air Service
Air service is available through George Town International Airport.

There is taxi service available to the airport.
Anchorage

Area Information / Tourism

Bahamas Area Websites

. Sites that can be searched for tourist and business information throughout the Bahamas.

Exumas Visitors Guide

. An free guide booklet available at many local businesses. It provides a good directory of services and attractions throughout the Exumas.
Art Gallery / Art

Bakery
Bank & ATM
Beverage Store
Bike Rental
Boat Rental / Charter
Book Exchange
BTC / Batelco Office

242-355-5060; Fax: 242-355-5063.
Car Rental

Exuma Jeep Rental; 242-355-5099.
Cell Phone Service

There is a BTC tower in the settlement.
Church
Coffee Shop
Cruisers Net
Customs & Immigration
Dinghy Landing

Government pier / mailboat dock (rickety).

Nearby private dock.

McKenzie's Shell station.
Ecology

Emergency
Ferry
Fishing

Bonefishing guide: Bonefish Reno; 242-345-5014; 242-524-4215; bonefishreno@yahoo.com. Rolle Town. Full and half-day excursions. Tackle & transportation can be provided.
Fresh Fish
Fuel
McKenzie's Shell. Gasoline only.
Golf Cart / Scooter Rental
Government / Administrator
Groceries & Produce
Ray Ann's Variety Store. Modest canned goods drinks, ice cream, household items selection.

Local produce is available from Ray Ann's Variety Store, McKenzie's Store, Valerie Taylor.

Williams Farm. Fresh vegetables grown in Barraterre.
Hardware & Lumber
Ice

Barraterre Bonefish Lodge.

Fisherman's Inn.
Ice Cream

Internet & WiFi
Laundry
Library
Lodging
Barraterre Bonefish Lodge; 242-355-5052.

Fisherman's Inn; 242-355-5017.
Mailboat
Marina & Dockage
Marine Supplies & Parts
Marine Services & Repairs
Medical / Clinic / Pharmacy

Government clinic. There is a nurse on staff.

Clinic at Stevenson. There is a doctor on staff. Access is by taxi.
Moorings
Navigation
Packages & Shipping
Personal Services
Police

242-345-6066. Rolleville.
Post Office / Mail

Propane
Resort
Restaurant & Bar

Barraterre Bonefish Lodge

Fisherman's Inn; Norman Lloyd; 242-355-5017.
McKenzie's Same Ole Place; 242-355-5050.

Note: contact restaurants on VHF Ch-16 for reservations and hours of operation.
Retail Therapy - Shopping

Ray Ann's Variety Store.

McKenzie's Store.
Showers
Snorkeling & Scuba Diving
Taxi
Taxi service is available to George Town International Airport.

Norman Lloyd

Alfred McKenzie
Things to See & Do
Kayaking: Barraterre Bonefish Lodge.

Bonefishing: Barraterre Bonefish Lodge.

The local boat yard is a mecca for C Class racing sloops. There are an amazing number of these racing boats for such a small settlement.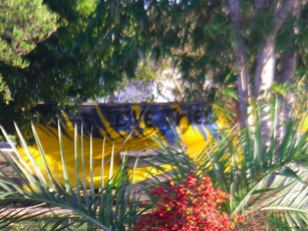 A C Class Sloop at the local boat yard.

Tides
Trash

There are trash bins in town.
Veterinarian

There is no local veterinarian.
Dr. Issah Hanson from the Bahamas Humane Society in Nassau visits George Town approximately every 3 weeks. Supplies for heart worm, flea and tick preventions, etc. may be purchased in between visits. To schedule an appointment or purchase meds, please call 242-524-2390 or e-mail bhsexuma@gmail.com
VHF Protocol

Standard Bahamas VHF Protocol: Ch-16 is for marine emergencies, safety, and hailing. It is also used by local Bahamian shore facilities for hailing. Communication traffic must be shifted to another channel.
Water

There is well or rain water available from Norman Lloyd or Alfred McKenzie.
Weather

Marine Weather Center

; Daily SSB, webcast, & email forecasts by Chris Parker. Note: Best reception in this area is usually on 4045 KHz USB Simplex at 0630 AST.
Bahamas Met Office

website provides weather forecast for local areas throughout the Bahamas.
Updated:31 Jan 13

Topics: 19 Jan 12