Cellular Voice and Data Service
Note: See Below if your Bahamas cell phone SIM card is no longer working as of 1 December 2012.

Updated:
26 Dec 2014
Cell Service in the Bahamas

Good cell phone service, both voice and data, is widely available throughout the Bahamas from BTD Bahamas.

Rule of thumb: if you can see one of the many cell towers you will have cell phone service.

The new owners of BTC Bahamas, Cable & Wireless, has performed system-wide service upgrade.

3G data service is widely available and 4G services are being brought on line.

Pre-paid cell phone service is so widely available and inexpensive that cruisers should consider having a phone aboard a must.

BTC Bahamas uses primarily GSM cellular technology.

CDMA is available in a few areas (Nassau, George Town)-- so be sure you have any US cell phone you carry turned off to avoid surprising roaming charges appearing.

Per communication from BTC Bahamas:

The frequencies that BTC uses are: 850 and 1900 MHz for Voice; 850 MHz for Data

Cell Phone Important Facts:

Emergency (Police & Fire): 919

Directory Assistance: 916

Air Time: check balance available on pre-paid cell phones: *33
General Advice
If you are cruising in the Bahamas, buy a GSM cell phone (or bring along one you already own) and use it for pre-paid service. You will find this less expensive than hunting down and using a pay phone ashore. It is also very convenient for contacting local business and enhances safety and security.

You will need to buy a SIM card (chip), $15, for the phone that assigns you a Bahamas phone number (Area Code: 242). The phone number / SIM card remains valid as long as you maintain a positive balance and use it in any 90-day period. If you buy the phone from a retailer in the Bahamas they will sell you the SIM card at the same time. If you already have a GSM phone, some places that sell pre-paid cell phone cards also sell SIM cards.

With pre-paid service, you deposit $ in your account up front and thus avoid having to establish a monthly account with the associated paperwork. The cost of each phone call is deducted from your balance after the call. The balance has an expiration date that is updated whenever you make a deposit.

BTC has established very good GSM coverage (see their map, below). I have found that any island with a

BTC tower

has cell phone service within line of sight - even remote Raccoon Cay and Ragged Island. Cell phone towers have been established along the length of the "long" islands and cays: Great Abaco; Long I.; Cat I; Eleuthera; Great Exuma, etc.
NOTE: BTC Pre-Paid Cell Phone Service Update
BTC is following a strict policy: if a pre-paid account is not kept current by depositing $ every 90 days or less and accesses the BTC network, the SIM card is deactivated. There is no alternative but going to a BTC Office to buy a new SIM card.

Note: if you have more than one pre-paid phone number, you can transfer $ from one number to another by dialing *204#
Adding $ to a Pre-Paid Phone Account (number)

The balance of your pre-paid account can be increased in several ways:
1. Buy a pre-paid phone card that has a "scratch-off" section that reveals a many-digit number that must be punched into the cell phone. It is a good idea to do this before you leave the place you bought the card to be sure it works.
2. Using the EZTop-Up service through a vendor who can use the internet to add $ to your account
3. Using the BTC EZTop-UP web site directly (see below).
4. Transfer $ from one pre-paid phone number to another using the *203# service.

Dial *33 whenever you have service to check the balance via a voice message.

Dial *201# to receive an SMS (text) message with your balance and expiration date.

The easiest way to increase your balance is to use the

EZTop-Up

service via a secure internet site using a credit card. See below.

EZTop-Up

BTC Bahamas has an excellent web site that will allow you to add $ to your pre-paid phone number account using a credit card.

To set up your pre-paid phone number account for EZ-Top Up, you must first phsically go to a BTC office with your phone and a photo ID and have a BTC rep "register" your phone.

Then you must go on the internet to the

EZTop-Up

website and register for an account for your newly registered phone.

Once you have a working pre-paid cell phone, a registration of the phone at a BTC office for EZ-Top Up, and an

EZTop-Up

website account, you can add $ to your pre-paid account from a credit card. It is very convenient.

Dial 200 Services

BTC Bahamas has instituted a set of services that you can activate from your phone by dialing *20X# where the X is a number 1 to 5

*201# to check $ balance.
*203# to transfer $ to another number.
*204# to send a "Call Me" message to another phone.
*205# to activate a mobile internet service on a compatible phone.

Cost of Cell Phone Calls in the Bahamas

Phone calls within the Bahamas are $0.33 / min during 0700 to 1900 and $0.15 / min during off-peak hours 1900-0700 and $0.20 / min on weekends.

BTC Bahamas has eliminated long distances fees for making cell phone calls between islands.
Current price schedule for cell phone service can be found on the BTC website:

BTC Cell Phone Rates

.
Cellular Data Service

Cellular data service is now available throughout the Bahamas using GSM-based data transmission.

BTC Bahamas use the 850 MHz cellular band for data services (similar to GSM data services in the US).

A SIM card that has been activated for cellular data services and a compatible device (phone or cellular data modem) are necessary.

Blackberrys and iPhones / iPad that can access the 850 MHz band and equipped with a BTC Bahamas SIM card that has been enabled for data can be used.

• BTC Bahamas offers several cellular data plans that are reasonable (e.g. $30 for 30 day / 2 GB of data.)

A cellular modem that has an internal wifi hub is a very useful way to connect to the internet in the Bahamas.
Caution
Some US cellular providers offer a roaming plan that will allow you to use your US phone directly on the Bahamas GSM network. Carefully check the charges as they can be substantial.

Setting Up a Cellular Modem

Onward's experience from December 2012:

Following the advice from several sources, Onward purchased an unlocked ATT Novatel MiFi 2373 unit for < $60.

This unit combines a cellular modem (to talk to the BTC GSM data network) with a wifi hub that can service up to 5 other devices.

A new pre-paid SIM card was purchased and activated and > $30 deposited in the account.

The SIM was then activated for cellular data service by sending a text (SMS) message of "Data 30D" to 5000. This initiated the service and deducted $30 from the pre-paid account (it is necessary to maintain a positive balance in the regular, non-data account.

The Novatel MiFi 2372 was set up by logging in as administrator and establishing a new internet profile where the APN was changed to internet.btcbahamas.com [note: the pre-paid APN, ppinternet.btcbahamas.com, is no longer in use as of Dec 2012)

In Dec 2014, Onward purchased a SIM for the MiFi unit at a BTC Office where it was activated and worked immediately after sending an SMS: Data2GB using the SIM in a regular phone, then putting it back in the MiFi.

Important Information for BTC Cellular Data Network Users

The servers that support the BTC cellular data network have blocked the use of file transport protocol (ftp).

I had to verify this by "experiment" and frustration because I could never find a knowledgeable BTC person who knew anything about how their servers were set up. I just got consistent errors when using ftp.

In December 2015, I established a Virtual Private Network (VPN) [from www.strongvpn.com] and that solved the ftp problem. ftp works perfectly when I use the VPN.

Information about BTC Bahamas

In late 2011, Cable & Wireless, a large telecommunications company doing business throughout the Caribbean, bought a 51% share of BTC Bahamas. The Government has granted them an monopoly until 2014 when the market will be opened to competition.

Cable and Wireless has been working hard since the purchase to upgrade service throughout the Bahamas. And the basic voice network has been upgraded.

4G services are being brought on line. Nassau, Freeport were the first to receive the upgrade.

As Cable & Wireless slowly implements its management and technology upgrades throughout the Bahamas, BTC offices on the smaller islands have had their hours of operation cut back to a partial day a week.
GSM Cell Phones
GSM (Global System for Mobile Communications) is an internationally accepted cellular standard with almost one billion customers across 206 countries and regions worldwide.

An individual with a cellular phone connected to a GSM network is free to move between countries and still use their cellular phone with all of their supplementary services in any country that has a GSM cellular network in place. GSM offers an extensive and feature-rich "family" of voice and data services. BTC's Cybercell® uses the North American standard of 1900 Mhz for its GSM network.

GSM is facilitated by a microchip called the Subscriber Identity Module (SIM), which is usually inserted inside the phone's battery compartment and can be changed from phone to phone so your number can travel with you.
The Bahamas Telecommunications Company
(BTC Bahamas)
BTC Office Locations



Coverage Map (April 09)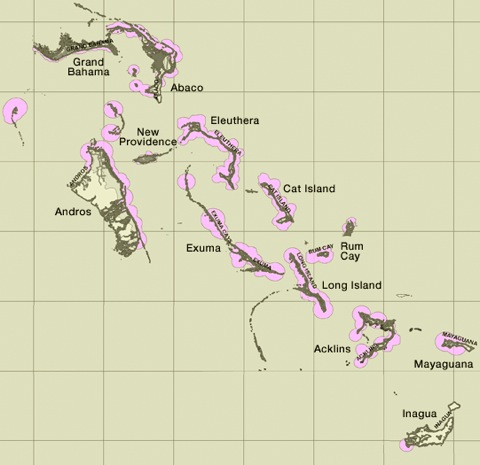 Internet Links
Updated: 10 Feb 2013