Neat Products for Cruisers


Here are some neat products used aboard experienced cruising boats.

EnGenius WiFi
The EnGenius EUB-9702 EXT 1 802.11n WiFi transceiver is amazing. It connects to your computer via a USB cable (a "smart" 25' cable is good to have to enable putting it up on deck) to an 802.11n transceiver that provides higher power output and more sensitivity to be able to pick up weak hot spots. The dual antennas make a significant difference. Get the larger ~10" antennas for better performance.
NetGate
Plastic Stemless Wine Glasses
These wine glasses are made of surgical-grade clear plastic. They are stemless so they will not be so susceptible to being upset aboard a moving boat - which of course always happens to the red wine. They also have a neat indentation for the thumb to make them easier to hold. They are flexible.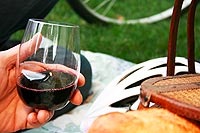 GoVino
Soda Machine


Stop carrying all those bottles of soda on cruises; reduce lugging and storage. Just put potable water in the pressure bottle, add a flavoring of your choice, chill, then add CO2. A 16-oz size bottle of flavoring will make > 13 liter bottles of soda; a CO2 cylinder carbonates ~110 liter bottles. For a refreshing drink just add a bit of real lemon or lime to water and carbonate. The diet tonic mix is great.
Sodastream USA
PortVisor
These are plastic visors that go over the side ports to prevent rain coming in when they are open.
PortVisors
Updated: 6 Jan 10